24 janvier 2012
2
24
/

01
/

janvier
/

2012
16:09
The sun is burning, you hardly can't see anymore.
The wind blows the sand all over the place.
Children play, they are over happy and turning around as fast as they possibly can.
A pirouette, ...... an other one, ..... a third one.
Turn, turn, turn !!
Le soleil brule, on ne voit quasiment plus.
Le vent chasse le sable partout.
Les enfants jouent, ils sont plus qu'heureux, et tournent sur eux-mêmes le plus vite possible.
Une pirouette, ..... une autre, ...... une troisième.
Tourne, tourne, tourne !!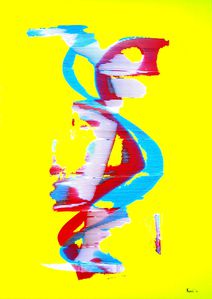 PIROUETTE HxL = 70cm x 50cm FR 01 12