20 janvier 2012
5
20
/

01
/

janvier
/

2012
16:16
Yes, stacking is putting objects on other objects.
It gives an idea as if it is an objects column.
The best is that all objects are similar, but it can be different.
As long as the bunch grows vertically, it means stacking.
What better than expressing it in Black & White?
Oui, empiler est mettre des objets sur d'autres objets.
C'est comme une colonne d'objets.
Le mieux est que chaque objet soit identique aux autres, mais ça peut être également différent.
Du moment que le tas grandit verticalement, c'est bien empiler que l'on veut dire.
Quoi de mieux que de l'exprimer en N&B?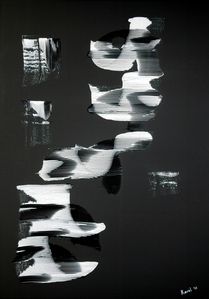 STACKING HxL= 70cmx50cm FR 01 12