6 février 2012
1
06
/

02
/

février
/

2012
08:55
Hi, when you were a kid, to whom did you tell all your secrets ?
No one was designated to be your secret's "safe", except your PUPPET.
Your best and worst secrets, only your puppet knew all about.
It told you also all its own secrets, and a lot of nice stories.
Even in the the puppet theatre it had its role.
You remember?
That it had threads, wires, or none of these, that was not important.
Most important was the love and affection it showed you.
Many adults still have their puppet.
I would have loved to still have mine.
Salut, enfant tu racontais tes secrets à qui?
Personne ne pouvait tenir mieux tes secrets que ta marionnette, ton Doudou.
Tes meilleurs et pires secrets, il n'y avait que lui qui savait.
Lui aussi te racontait ses propres secrets et plein de super histoires.
Même au théâtre des marionnettes il avait un rôle.
Tu t'en souviens?
Qu'il ait des fils ou pas, ça n'avait pas d'importance.
Le plus important c'est l'amour et la tendresse qu'il te témoignait.
Beaucoup d'adultes ont toujours leur Doudou.
J'aurais aimé encore avoir le mien.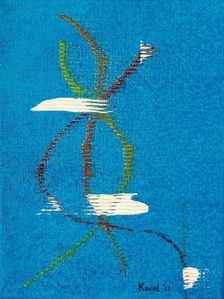 PUPPET HxL = 24x18 FR 02 12