31 août 2012
5
31
/

08
/

août
/

2012
14:06
MINIATURES:
The bigger the best, or, the smaller the nicest?
Is this question reality in art painting? Why not !!
Wanting to enlarge my potential group of (my) art lovers, I liked to reduce the sizes of my paintings.
How should I do?
Let's find a format approaching 10x10, looking like some kind of under glasses.
I finally found "under glasses" of this size and build a frame around it.
This is the result !!
Acryl paint for the background and "nail varnish" for the front colors!!
So what about my comb technique!!
There are so many other secrets in creating these miniatures, but these will stay with me.
MINIATURES:
Plus c'est grand mieux c'est, plus c'est petit plus mignon c'est.
Est-ce également le cas en peinture artistique ? Pourquoi pas !!
Désirant élargir mon groupe d'amateurs d'art (mon art) j'ai voulu réduire le format de mes peintures.
Alors comment faire?
Cherchons un format approchant les 10x10, pourquoi pas des sous-verres.
Finalement j'ai trouvé des vrais "sous-verres" de cette dimension et ai construit un cadre autour.
Voici donc le résultat!!
Peinture acrylique pour le fons et pour les couleurs en avant-plan du "verni à ongles"!!
Alors quid de ma technique "peignistique"!!
Il y a bien d'autres secrets dans la création de ces miniatures, mais ceux-là resteront auprès de moi.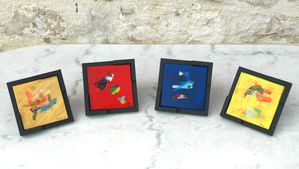 MINIATURES Serial1 HxL=10x10cm on frame 12x12cm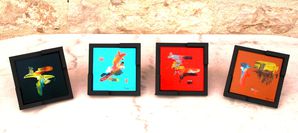 MINIATURES Serial1 HxL=10x10cm on frame 12x12cm