27 novembre 2012
2
27
/

11
/

novembre
/

2012
10:43
WINDOWS
Behind every opening, every window, thoughts and views are renewed.
Changes in depths, colors and compositions are there to push you to travel into new dimensions.
The balance between interior and outdoor (outwindow?) can be very brutal.
The need is absolute to rest and observe the limits of the horizons.
Windows can be closed with bars, they stay transparent still.
This artwork is like a never ending dream. Not a nightmare !!
FENÊTRES
Derrière chaque ouverture, chaque fenêtre, il y a renouvellement des pensées et regards (vues).
Les changements de compositions, de couleurs et de profondeurs, sont présents afin d'inviter à voyager dans de nouvelles dimensions.
L'équilibre entre intérieur et extérieur peut s'avérer très brutal.
On se doit alors de se poser et d'observer les limites des horizons.
Les fenêtres peuvent être fermées par des barreaux, mais n'en restent pas moins transparentes.
Cette oeuvre est un rêve sans fin. Pas un cauchemar!!!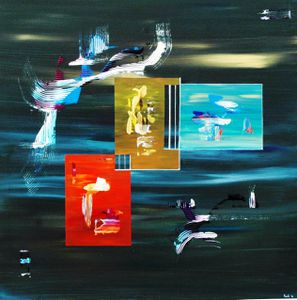 WINDOWS HxL 100x100 cm FR 10 12