25 mars 2013
1
25
/

03
/

mars
/

2013
08:49
GOLDEN LEAGUE 2013
This painting is dedicated to the GOLDEN LEAGUE 2013 Handball and specifically to the best female players. Different countries have organized and played in this 2012 created Golden League. Indeed France, Norway, Denmark and Russia have been playing this specific competition.
Florian Morin from the Vendée Handball organization, as well as from Stévann Pichon from the Pays de la Loire Handball organization, gave me the opportunity to exhibit 15 of my paintings in the VIP Lounge at the Vendéspace, sporting and recreation complex, (on Wednesday the 20th of march) near La Roche sur Yon in the Vendée.
I than specially created a 100cm x 100cm painting representing the GOLDEN LEAGUE 2013 through the field colors (Blue and Yellow) and the Red, White and Blue ball deformed by the speed and the intensity of play, as well as the multiple colored shirt covering the arm. Gold is present all over this painting and in special by separating the field colors.
It has been presented and reached out to the GOLDEN LEAGUE 2013 winning team, France, on Saturday the 23d of March in Nantes.
It is now the property of the FFHB.
I particularly thank the President of the French Handball Federation (FFHB) Mr. Joël Delplanque for his kind acceptance in reaching out my painting to the winning team.
GOLDEN LEAGUE 2013.
Cette peinture est dédiée à la GOLDEN LEAGUE 2013 handball et plus particulièrement aux meilleures des handballeuses. Plusieurs pays ont organisé cette league depuis 2012. La France, la Norvège, le Danemark et la Russie ont participé à cette compétition.
Florian Morin du Handball Vendéen et Stévann Pichon du Handball Pays de la Loire m'ont permis d'exposer 15 de mes tableaux au Vendéspace, complexe ludico-sportif, près de La Roche sur Yon en Vendée.
Pour cette occasion, j'ai créé une œuvre de 100cm x 100 cm représentant la GOLDEN LEAGUE 2013 au travers des couleurs du terrain de handball (bleu et jaune), la balle bleue, blanche et rouge déformée par la vitesse et l'intensité du jeu, ainsi que la représentation des maillots multicolores recouvrant le bras. L'or est présent partout sur le tableau et plus particulièrement en séparation des couleurs de l'aire de jeu.
Le tableau a été présenté et remis à l'équipe gagnante (La France) lors de la finale à Nantes le 23 mars 2013. Il est maintenant la propriété de la FFHB.
Mes remerciements vont aussi particulièrement au Président, Monsieur Joël Delplanque, de la FFHB, pour sa gentillesse à remettre mon tableau à l'équipe gagnante.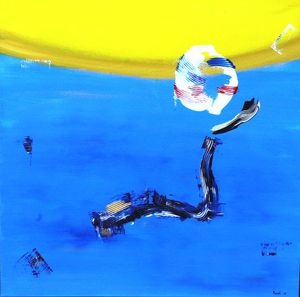 GOLDEN LEAGUE 2013 100X100 FR 03 2013