21 septembre 2012
5
21
/

09
/

septembre
/

2012
14:47
Est-ce un Roi de l'antiquité ou du futur?
Son visage se dessine clairement.
Les traits soulignent sa barbichette ainsi que son nez et son œil gauche.
Sur son front le signe distinctif de sa condition.
Sur son épaule gauche on devine sa cape royale.
Is he the King out of ancient times or from the future?
His face is clearly defined.
The lines are underlining his beard as well as his nose and left eye.
A distinctive sign of his royal condition is present on his forehead.
His royal cape lies on his left shoulder.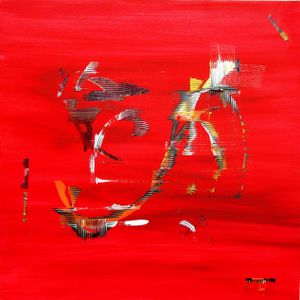 KING & MASK HxL = 100cm x 100cm FR 08 12