1 février 2014
6
01
/

02
/

février
/

2014
13:02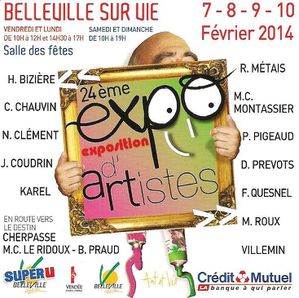 Belleville sur Vie 24e Exposition d'artistes
I will be on exhibition from the 7th upto the 10th of February 2014 at the 24th Artists Exhibition of Belleville sur Vie (85170) in the Vendée, France.
A fantastic fair with many visitors (around 3500 in 4 days)
12 Top artists are exhibiting their paintings and artworks, as well as 3 more artists having a local art-happening (the road to destiny).
It will THE Great Art-Party from friday morning the 7th upto monday evening the 10th.
I will be presenting 7 paintings from which 4 are totally new.
Belleville sur Vie 24e Exposition d'artistes
J'exposerai 7 tableaux, dont 4 totalement nouveaux, lors de la 24e Exposition d'Artistes de Belleville sur Vie (85170) en Vendée, qui se tient du 7 au 10 février 2014.
Une super exposition, drainant beaucoup de monde (autour de 3500 visiteurs en 4 jours).
12 Top artistes y exposent leurs oeuvres, ainsi que 3 autres artistes réalisant un atelier sur le thème "en route vers le destin".
Ce sera LA Grande Fête Artistique du vendredi matin 7 au lundi après-midi 10 février.