1 février 2012
3
01
/

02
/

février
/

2012
19:19
Have you ever looked deep into the night?
Look behind the stars, yes far behind.
In winter time, on the country side, away from the lights of our towns and villages.
That sight is magnificent.
Blue, yellow, red, green, white, black, you will discover many different colors of the outer space.
Avez-vous déjà observé la nuit profonde?
Regardez au-delà des étoiles, oui loin derrière.
En hiver, à la campagne, très loin des lumières des villes et villages.
La vue y est vraiment grandiose.
Bleu, jaune, rouge, vert, blanc, noir, on y découvre toute une palette de couleurs propre à l'espace.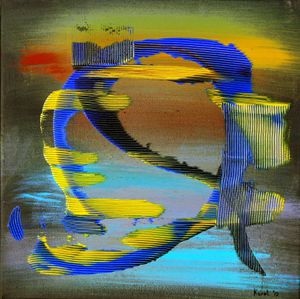 OUTERSPACE HxL = 40 x 40 FR 01 12 E